VIỆT NAM SPORT SHOW 2019 TAKES PLACE IN THE CAPITAL
07/02/2020 14:02
HÀ NỘI — The Việt Nam Sport Show 2019 kicked off in Hà Nội yesterday, featuring sports products from 150 domestic and foreign exhibitors.
Speaking at the opening ceremony, Nguyễn Hồng Minh, deputy head of the General Department of Sports and Physical Training, said the three-day event offered Vietnamese and international sports associations, manufacturers and traders opportunities to co-operate and access potential customers.
The exhibition includes 300 booths of firms from China, the Netherlands, the Republic of Korea (RoK), Japan, Pakistan, Singapore, Taiwan and Việt Nam, among others.
The event is expected to attract more than 10,000 visitors.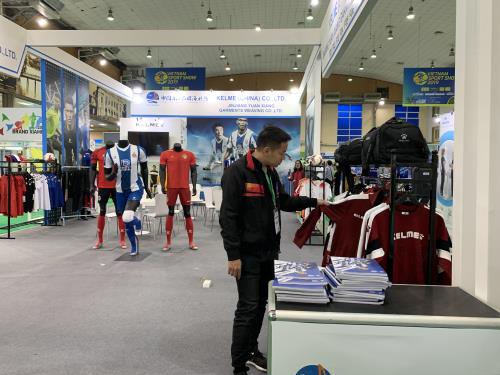 A visitor at Việt Nam Sport Show 2019 kicked off in Hà Nội on Thursday, featuring the most outstanding and advanced-technology sports products of 150 domestic and foreign exhibitors. — VNA/VNS Photo Uyên Hương
According to the organiser, Việt Nam National Trade Fair & Advertising Company (Vinexad), the show displays sport equipment and machines, multi-functional gym stations, outdoor sports equipment, underwater sport equipment, supplements for athletes, sport centre franchises, health monitoring equipment and sport apparel.
At the event, the Việt Nam Cycle space introduces the latest products and technologies such as electric bicycles and motorbikes, spare parts, and protective clothing.
Việt Nam Sport Show 2019 features big international names such as Corinto, KZM, Power Check Impex, Attivo, Bianchi, Peogeot, Look and Dahon.
Other Vietnamese firms have joined the event, like An Hưng, Azper, Bách Hiền and Long Long Chemical.
To offer more effective co-operation opportunities, Vinexad has worked with Xiamen Huyuan Expo Co Ltd to organise a matching programme called 'Xiamen Essence Brands 2018', featuring products of nearly 30 Chinese firms from Xiamen Province.
Victor Xu, Founder of Xiamen Kyme Import and Export Co Ltd, told Việt Nam News that his company had been distributing goods in many countries, including China, Japan, the US and Europe.
"Việt Nam is a relatively developed market, and we hope to explore and research more about the potential of this market," Xu said.
Kayla Yu, Client Manager of Xiamen K-Star Sports Co Ltd said her company specialised in motorised treadmill and hoped to meet and exchange with partners also specialised in this area through the event.
As part of the show, a trade connectivity programme and seminars will also be held.
A sport fashion show, a workshop on sports, the Hà Nội Street Workout Open Cup 2019, and lucky prizes are also part of the Việt Nam Sport Show. — VNS
Link gốc: https://vietnamnews.vn/economy/538470/viet-nam-sport-show-2019-takes-place-in-the-capital.html